Hotaru Nowaki (野分ほたる, Nowaki Hotaru) is a member of the Esper team, The Double Face. She works as a receptionist for B.A.B.E.L.. Hotaru is a Level 5 Telepath.
Appearance
Edit
Personality
Edit
Abilities
Edit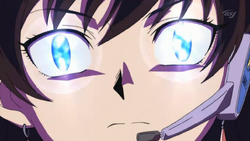 Relationships
Edit
Hotaru is named after two chapters in The Tale of Genji, "Nowaki" (野分) and "Hotaru" (蛍). Also, the character Hotaru, was Genji's half-brother.
Ad blocker interference detected!
Wikia is a free-to-use site that makes money from advertising. We have a modified experience for viewers using ad blockers

Wikia is not accessible if you've made further modifications. Remove the custom ad blocker rule(s) and the page will load as expected.