Mary Ford (メアリー フォード, Mearī Fōdo) is a Lieutenant of the Japanese Comerican Esper Team The Liberty Bells. She is a Level 6 Psychokinetic.
Appearance
Edit
Mary has shoulder length Gray hair, and dark skin. She has a well endowed chest, and is usually seen in her cowboy hat and boots.
Personality
Edit
Marys Personality is much like Karous she is boastful and confident in her power. She quickly takes a liking to Minamoto witch makes The Children jealous because of Marys age being very close to Minamotos and because of her sexy body. However when she works with The Children she is shown to care and help her team.
Abilities
Edit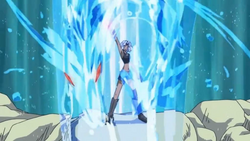 Relationships
Edit