Mio Tsukushi (筑紫 澪, Tsukushi Mio) is a member of P.A.N.D.R.A.. She is a Teleporter.
Appearance
Edit
Blonde hair and brown eyes.
Personality
Edit
Abilities
Edit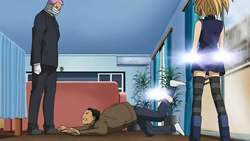 Rather than teleporting her entire body, Mio's ability works by opening a portal which she can pass through, moving only one part of her body at once. She can grab other people's body parts and pull them back through the portal. She also can use her ability to duplicate her body (making clones), but if she abuses of her powers, those clones can become independent from her and even attempt to absorb her.
Relationships
Edit
Ad blocker interference detected!
Wikia is a free-to-use site that makes money from advertising. We have a modified experience for viewers using ad blockers

Wikia is not accessible if you've made further modifications. Remove the custom ad blocker rule(s) and the page will load as expected.