Momotarō (桃太郎, Momotarō) is an animal Esper of P.A.N.D.R.A.. he is always seen with Hyoubu Kyosuke. He is a surviver (probably the only) of an attempt to produce animals espers for military purpose.
Appearance
Edit
Momotaro has yellow fur and has black eyes and because he was made to become a military esper soldier he has a light buld at his back that he hides when he is in hibernation mode.
Personality
Edit
Has a cheeky personality. He is also quite playful as he enjoys play around with Kaoru.
Abilities
Edit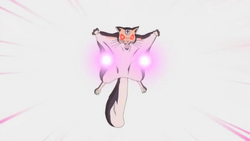 Psychokinesis: When he feels threatened or wants to attack his enemy Momotaro can generate psychokinetic laser beams.
Telepathy: He mainly uses this ability as a means of communication.
Relationships
Edit
He likes Kaoru Akashi and Kyōsuke Hyōbu.
Ad blocker interference detected!
Wikia is a free-to-use site that makes money from advertising. We have a modified experience for viewers using ad blockers

Wikia is not accessible if you've made further modifications. Remove the custom ad blocker rule(s) and the page will load as expected.