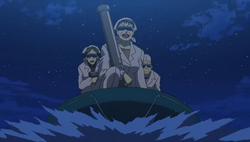 The Normal People organization is a team of non-Espers. They are extremely hostile towards Espers for unknown reasons. The do conduct various attaempts to harm or even kill espers, including hacking BABEL's computer systems, siccing robots against them and so on. They seem to be well-connected with other anti-esper fanatics around the world.
Normal People knows Taizō Kiritsubo and his organization B.A.B.E.L., a few members of Normal Poeple where been attacked by him and Kōichi.
Normal People has access to various high-tech equipment such as the ECM esper powers suppression device and another piece of technology used to simulate the presence of an esper to lure in espers sent after him.
The organization has members from all walks of live and positions in society. They managed even to recruit members of BABEL to aid them in their operations against them.
So far they managed to kill only one BABEL member, I-009.
They appeared in the test volume of Takashi Shiina.
They should originally the final villain group of the series.